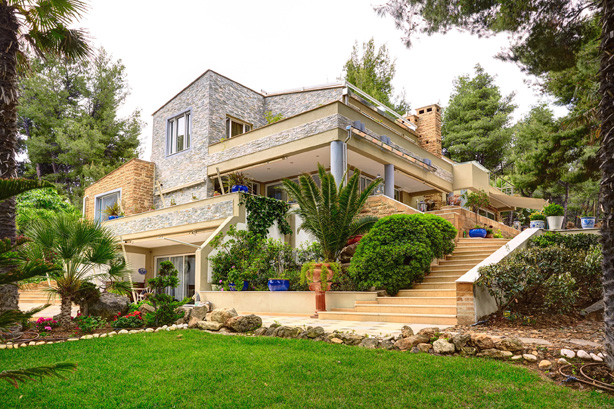 Villa
The main structure of the villa consists of three levels: the ground floor and two floors above ground.
On the ground floor there is a spacious dining room and a kitchen equipped with all the necessary appliances for modern living. There are also 2 bedrooms, a bathroom and a utility room.
The first floor of the villa consists of a living room, 4 bedrooms and 3 bathrooms. The living room design successfully combines antique furniture and antiques combined with modern textures and materials. The spacious terrace is separated from the living room by large glass windows and doors, which bring levity to the interior through an abundance of light.
On the second floor there are 3 bedrooms and 1 bathroom. One of the rooms has access to a large open area that can be used as an area for relaxation, sunbathing or for enjoying the sunset and the aroma of the pine trees.
There are spectacular views from the terraces of the hill, where once stood an ancient city, of which we are reminded by the preserved ruins of the Byzantine tower of Stavronikita.