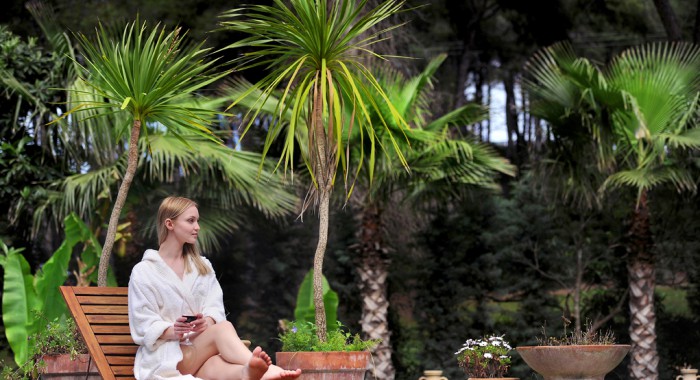 Garden
The garden, laid out over one hectare, is the true treasure of the villa.
It is divided into two parts, the first of which is an area of ​​1 acre and part of a pine forest, the second - an area of ​​1.5 acres, is abundant with date trees, fruit trees and flowers.
Among the fruit trees, apples, pears, pomegranates, tangerines, lemons and bananas are to be found.
At any time of year, the garden is ready to welcome visitors with its perpetual greenery.
Along the perimeter of the house, stairways and paths, exotic plants bloom and delight the eye, from cactus to delicate jasmine and fragrant cypress trees.
A summer restaurant which can accommodate up to 60 people is situated in the garden along with a spa area with a 25m pool.
Rose bushes near the swimming pool create an atmosphere of homely comfort and breakup the heavy mass of the date trees.
The area of the summer restaurant, immersed in the shade of pine and fruit trees, is decorated with ornamental garden statues, among them - collectible antiques.
In front of the guest houses is an area of soft green grass, where you can picnic or occupy the children with activities. Lemon and tangerine trees will help set a mood of abundant colorful fruits and fragrant citrus.